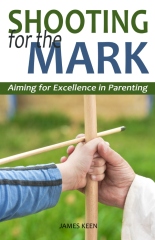 The time our children have in our home is fleeting.
Our charge as parents is to prepare them to live as godly adults before the Lord.  For most of them, God's plan will include marriage, a relationship that will shape the rest of their life and possibly future generations.
Shooting for the Mark lays out a spiritual roadmap by which we can focus on essential goals and character qualities we should seek to instill in our children before they leave our home as adults.
Shooting for the Mark is designed to be straightforward, a tool for family and personal devotion, and application-driven.  If the Lord has blessed you with arrows, make sure you are shooting for the mark.
To learn more, click here to preview the Table of Contents, Introduction, and Chapter 22.
Shooting for the Mark can be purchased for $8.50 plus shipping & handling by visiting the Bookstore.  All proceeds from sales will be directed to The Anchor Missionary Baptist Church building fund.  Bulk discounts can be arranged by contacting Pastor Keen at: pastor@anchormb.org